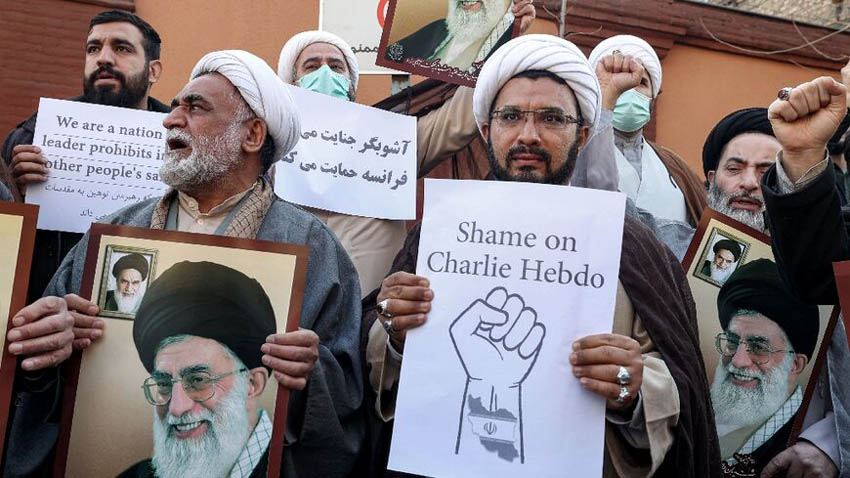 Protests were held outside the French embassy in Tehran after France's Charlie Hebdo published cartoons of supreme leader Ayatollah Ali Khamenei. Photo: ATTA KENARE / AFP
Washington (AFP): US computing giant Microsoft said Friday that it had identified Iranian state actors as those behind the recent cyberattack on French satirical newspaper Charlie Hebdo.
Clint Watts, the general manager of Microsoft's Digital Threat Analysis Center, said that the hackers, who called themselves "Holy Souls," were Iranian cybersecurity firm Emennet Pasargad.
In early January Holy Souls announced they had obtained the personal information of more than 200,000 Charlie Hebdo customers, and published a sample of the data as proof.
The cyberattack came after Charlie Hebdo published cartoons of Iranian supreme leader Ayatollah Ali Khamenei in a special edition to mark the anniversary of the 2015 attack on its Paris offices that left 12 dead.
Iran issued an official warning to France over the "insulting and indecent" cartoons.
Emennet Pasargad was the employer of two Iranians, Mohammad Hosein Musa Kazemi and Sajjad Kashian, who were indicted by the United States Justice Department in November 2021.
They allegedly conducted a cyber campaign "to intimidate and influence American voters, and otherwise undermine voter confidence and sow discord" during the 2020 US presidential election.
Kazemi and Kashian allegedly obtained confidential voter information and sent menacing emails, pushing out false information to influence both Democratic and Republican voters, and attempted to hack into state voting-related websites, the department said.
The Charlie Hebdo hackers, whose operation Microsoft dubbed "Neptunium", offered the stolen subscriber database for sale online for 20 bitcoin, currently about $460,000, Microsoft said.
"Whatever one may think of Charlie Hebdo's editorial choices, the release of personally identifiable information about tens of thousands of its customers constitutes a grave threat," Microsoft said.